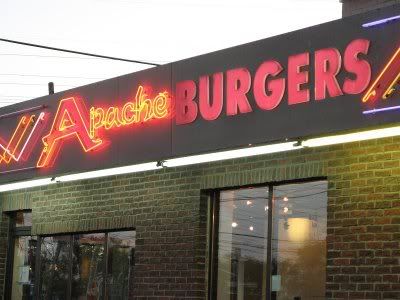 5236 Dundas St. West
I first noticed this burger joint while taking the bus to the airport-- the 192 Airport Express, vastly superior to the old nonexpress bus which leaves from Lawrence West station and then winds its merry way through the hinterlands of Toronto. The first time I took that 90 minute tour I felt like Lisa Simpson when she took the bus by herself to get to the Springfield Museum
Simpsons Episode 5F17, "Lost Our Lisa."
). Lisa gets on the wrong bus( ("How could I confuse bus 22 with 22-a?") and gets farther and farther from her goal: "Crackton! This stop, Crackton!" The Airport Express, on the other hand, takes only about half an hour and leaves from Kipling Station, which is just down the road from Apache Burger.
When first I glanced out the window and saw the name of this restaurant my mind started to churn. Apache Burger? APACHE BURGER? Are they rockin' some kind of retro-racist
Cleveland Indians Mascot
style vibe? If I go in there, am I going to be served a burger by the
Chocolate Smoking Aztec?
Problematic indeed.
I filed Apache Burger away in my the back of my mind as a strange curiosity, something to ponder every time I rode out to the airport. Apaches... why Apaches? Historically there were no Apaches in Toronto. Why didn't they call it Iroquois Burger? Historically there were very few Apaches in Texas as well. There was an offshoot, the Lipan Apaches, who lived in Texas but the main Apache territory was Arizona and New Mexico. The Plains Apaches lived mostly in Oklahoma. Were Apaches known for their burger-making skills? The more I pondered, the more questions bubbled to the surface.
Then I started this Burger Quest and quickly discovered that Apache Burger is a much-beloved Toronto Burger Destination, fulfilling the burger needs of the West Side the same way Johnny's, another legendary Toronto burger spot, serves the folks over on The East Side (I haven't been to Johnny's yet, but it's on my list... stay tuned!). I had to steel myself against the possibility of racist cartoon stereotypes and make the trek to Apache Burger to taste the legend for myself.
My father-in-law Randy (who has joined me on The Quest
several times
before
) and I drove out to Apache Burger one beautiful winter day. Not quite burger season but the sun was shining and there was only a light dusting of snow on the rooftops but more importantly, we were HUNGRY.
We stepped into the restaurant and instantly I was relieved at the absence of cartoon racism. Instead, the interior of the restaurant was decorated in 50s retro red with accents of black and white with a touch of sleek chrome. There was a red neon guitar on the ceiling and a tile mosaic of Marilyn Monroe on the wall. On another wall a plaque informed me that Apache Burger was established in 1969. They must be doing something right because on that winter day the place was packed but the line was zippin' right along. Randy and I both opted for double cheeseburgers with BBQ sauce, a bit of a departure from my standard order but I heard through the grapevine that Apache Burger was known for their BBQ sauce so what the heck, right? Throw it on there! Should I order another plain burger as a "Control Group?" No! Scientific Method be damned!
We get our big foil-wrapped burgers and our onion rings, then find a booth and dig in. Unwrapped, the burger is dripping with grease and cheese. My tastebuds are tingling. THE FIRST BITE, surprise surprise, is cheesy and greasy and DAMN DELCIOUS. The BBQ sauce gives it a tangy zip. This ain't no gourmet snooty burger, no-- this is a hearty sloppy eleven-thirty at night after drivin' around with your high school buddies type of burger, the kind of burger that sticks in your memory and inspires life-long devotion. The onion rings, on the other hand... they're golden and crispy and greasy, but they could be more oniony. They're too thick with batter, like donuts or apple fritters. Does that stop us from eating them? HELL, NO.
Outside the restaurant condos are springing up all around us, growing Jack-And-The-Beanstalk-style toward the sky. We head for the car, hungry no more.