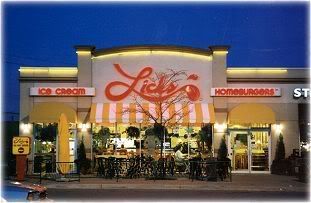 Friday August 10th, 2007
Somehow I've gotten totally turned around and I'm walking up and down the Danforth for the third or fourth time, totally lost. Where The Hell is Lick's? For sure that's it up ahead with the red awning, yep, gotta be. Nope. I pause and scratch my head. What goes on? I know Lick's is around here somewhere. I've walked past it many times. Maybe back this way? But I've just come from there. I'm going in circles on a long straight road. A good metaphor, perhaps, for this Quest itself. Venturing forth, feet beating all over The City and then every night I'm back at home, safe in my comfy bed. What am I doing? What am I really looking for? Several people have told me I'm going to fail at this Quest, that I cannot find the Texas-style burger of my youth here in The City of Toronto and if that's true then what the Hell am I doing? Back and forth, back and forth, runnin' around like a fool stuffing my face with ground meat. Where the Hell is Lick's?
I have not gone far enough. That's the problem right there. Go farther, keep pushing, keep truckin' on down the line. Lick's is not where I thought it was but is farther East, at Danforth and Pape. I have found it at last and I step inside, a 'Welcome' banner strung up over the cheerful yellow counter. I step into the kid's birthday party atmosphere of Lick's, all bright primary colors and balloons and streamers, red and gold stars stuck to the walls, plastic balls and Hawaiian leis and inflatable whales suspended from the ceiling. I walk past the wooden antique-ice-cream-parlor-style benches Lick's has instead of booths and go up to the counter and place my order. The friendly countergal takes my name but doesn't sing to me as I was fearing. Instead the countergal turns and sings the order to the grill gals who sing back to her, a hamburger call-and-response that is part of the official Lick's party atmosphere but these gals seem to be having a genuinely good time. Perhaps more businesses should instigate this singing policy, Board of Directors at The Bank of Montreal leaping onto the tabletop and throwing up the Jazz Hands: "Money! That's-- What I Want!" Yes indeed, a Motown classic that would no doubt cause the workday to roll by smooth. My buddy and fellow Burger Quester Beau once worked at the Lick's in Kingston, ON briefly one summer and he did NOT like singing especially to the drunken students who would walk in snickering and give fake names... "Yes, hello, my name is Phil McCracken and I would like a tasty hamburger." But even worse than that, Beau tells me, is the time a mutual friend of ours, a comedy genius, stepped into the store. 'Here we go,' thought Beau, preparing himself for the onslaught of mockery. Instead our mutual friend couldn't even make eye contact, shuffling forward, staring embarrassed at the floor.
Lick's is a Canadian Institution, founded by Denise Meehan in 1980 and unlike other formerly Canadian institutions that are now owned by Americans-- The Hudson's Bay Company, Molson Breweries (makers of Molson Canadian... you won't be seeing "I Am Actually American" advertisements anytime soon), and Tim Horton's-- Lick's is still 100% Canadian owned. At Lick's the thing to order is their Homeburger, which according to their website is "a huge patty made with top quality pasteurized ground beef grilled perfectly over charcoal and a special sauce called Guk!" This is the burger I order and then as I stand in line waiting for my burger to cook the countergal sees me jotting in my journal and asks, "you write?" Why, yes, yes I do. This is a Burger Quest First. No one else has made a peep about me scribbling madly in my big black journal. Ah, the anonymity of The City! I explain myself to the countergal and tell her about The Quest. "Cool!" She says. "Yeah," I say and then she is off to take more orders.
My burger and onion rings are ready! On my direction the grill gal loads up my burger with lettuce, tomato, onion, pickles, mustard and yes, Guk Sauce which is like a garlicky mayo. I take a seat surrounded by balloons and streamers and dig in. THE FIRST BITE is beefy, spicy and delicious. No toasted bun... I should've asked for it toasted. The onion rings are none too fresh, sitting in a wire rack above the deep fryer for who knows how long, becoming heavy and laden with grease. This burger is great, though: one of the best chain (as of this writing Lick's has twenty-four stores) burgers I've ever had. I pop the last bite into my mouth and then I am gone, retracing my steps, heading for home, moving in circles on a long straight road.