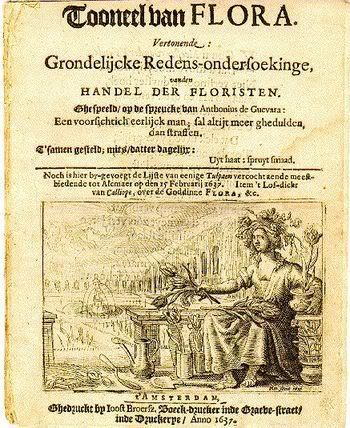 Tuesday July 17th, 2007
If, like me, you're a fan of Mass Hysterias, you won't be able to think "Tulip" without instantly making the mental leap to "Tulip Bulb Mania": The raw speculative craze which swept through 17th Century Holland and drove prices of tulip bulbs-- that's right, tulip bulbs-- as high as $76,000 in today's dollars. Seventy-Six Grand for a single tulip bulb. A freakin' Tulip Bulb!!! In 1636, the Tulip Market did what all overheated markets do: it crashed, and hard. Within a period of six weeks tulip bulb prices fell by 90%, and kept falling. Soon that $76,000 tulip bulb was selling for less than a dollar. Classical economics teaches us that human beings are rational actors who only act in their best interests. Stories like the above show that human beings can get swept up in speculation beyond any point of rationality and thus Classical Economics is full of crap.
Luckily for me, there is no current speculative Burger Mania sweeping through North America. I can go to The Tulip diner on Queen East and not have to pay seventy-six grand for a burger. This is a good thing. Accompanying me on this leg of The Quest are my future Father-in-Law Randy (who you might remember from *link* earlier in The Quest) and my five-year-old nephew Ji Hong.
The Tulip is a Diner Lover's Diner, all dark polished wood and deep purple booths and chairs, stained glass Tiffany-style lamps dotting the lemon yellow walls, red-orange floor tiles the color of Mars. The delicious smell of frying onions wafts through the air to be replaced by the smell of freshly-made coffee. Behind the lunch counter is the same pie display case full of frothy cream pies, chocolate cake and cheesecake that you find in every diner everywhere.
The Tulip reminds me of the diner my Great-Grandmother and my Great-Aunt used to take us to in Oceola, Iowa. It was here I had onion rings for the first time in my life. Me, tiny and goggle-eyed at the mountain of crispy golden-brown onion rings in front of us... thank you, Grandma Houston and Aunt Jane for brightening my culinary horizons.
"Let's sit in a booth," says Randy. "It's always cool to sit in a booth."
"Why?" Asks young Ji Hong.
Randy: "Keeps the chairs from breaking."
Ji, a devilish gleam in his eye: "When the World explodes, The Restaurant will break!"
In the booth Ji is full of 5-year-old energy, squirmy and full of questions:
"What's a Quest?"
"Who's King Arthur?"
"Can I go to the washroom?"
Randy leads his Grandson away and I lean back, cushioned by diner sounds: sizzling grill, murmur of conversation, clang and clatter of silverware, electronic beep de boop of some idiot in the booth behind me playing a video game on his cell phone.
Ji returns and climbs into the booth. "It's lunch time and I'm having breakfast!" It's the first meal of the day for me, too.
I flip open the menu. 9 ounce Jumbo Burger or 6.5 ounce Regular Burger? I think we all know the answer to that one, don't we, Burger Fans? Jumbo, with coleslaw. "It comes with coleslaw." And a water.
Restaurants in Canada hardly ever automatically set out water glasses. You have to ask, and in some cases (like today) you have to ask more than once. In Dallas, as soon as you sit down, BAM! Huge plastic water glasses as big as your head. Or in nicer restaurants, glasses made of actual glass, but delivered just as speedily. Chalk it up to the climate: in the blistering heat of the Texas Summertime, you must continually down liter after liter of water just to stay hydrated.
The Burgers (and Randy's Corned Beef) Arrive! Randy helps Ji assemble his burger. "What would you like on your burger, Ji?" "Relish, of course!" Ji, unlike me, is a Relish Man.
The Burger is huge, grilled to perfection and served on a toasted buttered bun on a white oval plate just like at all the roadside diners from my youth.
Across the booth from me Ji strains to get his mouth around his massive hamburger. Ketchup falls into his lap. Grampa Randy steps in and helps him out, cutting the burger first in half and then cutting one half into smaller bites.
I turn to my own burger and dig in. The First Bite is beefy and meaty and delicious: grilled meat, mustard and onion. This burger is similar to
Dangerous Dan's
: a member of the thick Meatloaf School of Burgers. It's not quite what I'm questing for, but it is delicious.
The coleslaw, on the other hand... well, someone has to get the last of the batch and I believe today that someone is me. My slaw is a wilted dingy puddle. Across the table Randy's slaw looks vibrant, fresh and festive. Ah well-- such is life. The Rose and The Briar. Some days you get the bear, some days the bear gets you. You can't always have the freshest coleslaw on the block. This isn't Coleslaw Quest, anyway. It's The Burger Quest, and this here burger is mighty tasty and is soon gone, consumed into memory.
After the burgers are gone we get our server to crack open the pie case and we finish our meal by splitting a slice of chocolate cake. I turn to my nephew. "So what did you think of that burger, Ji?"
Mouth full of chocolate cake, Ji gives The Tulip burger Two Thumbs up.