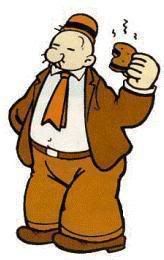 Monday July 16th, 2007
"I am J. Wellington Wimpy, and I suggest we all have a hamburger on the house." So proclaims Popeye's sleepy-eyed mustachioed pal Wimpy at the beginning of "Plunder Island", a sequence of 'Thimble Theater' Sunday comic strips that ran from 1933 to 1934. This was the only occasion that Thimble Theater's creator, E.C. (Elize Crisler) Segar used the Sunday strips to tell an ongoing narrative: usually Segar's Sunday strips were reserved for self-contained gags. In 'Plunder Island,' however, we see a comics master at work, weaving an intricate tale of piracy and adventure full of memorable characters (Wimpy, Olive Oyl, Alice The Goon, The Sea Hag), mystery, danger, and hamburgers.
J. Wellington Wimpy is a True Burger Lover. When captured by the Sea Hag he asks, "Do you, by chance, happen to have a bit of sandwich handy?" To which The Sea Hag replies, "I have fifty pounds of delicious frozen hamburger in the refrigerator. I'll have the cook fry one for you." Wimpy's normally sleepy eyes pop open as he exclaims, "I beg pardon? Did you say Hamburger?" Wimpy then begins kissing The Sea Hag. "Wonderful lady, I cannot restrain myself any longer-- O pearl of sky-blue waters... eyes like distant suns radiant with atomic fire, my beloved hamburge-- ah, I mean Sea Hag." Later, back on Popeye's ship, Roughhouse the ship's cook builds a hamburger stand on the deck to alleviate his homesickness ("You know, Popeye, I'm getting kind of homesick. Say, we used to have a lot of fun in my restaurant back home, didn't we?"). Unfortunately for Roughhouse, his first customer turns out to be the ever-mooching J. Wellington Wimpy. "I will gladly pay you Tuesday for a hamburger today." Roughhouse gets so angry he pushes his hamburger stand into the ocean. Wimpy, fully clothed, dives in after it. In the last panel of that strip we see Wimpy inside the hamburger stand, bobbing on the waves and talking to himself: "What'll you have on your hamburger, Mr. Wimpy? I'll have pickle, onion and lettuce, both."
As 'Plunder Island' continues we see Wimpy wrestle a live cow ("Hamburgers on the hoof! Relax, you brute! I have you!"), make hamburgers out of five lions guarding The Sea Hag's treasure ("Good heavens! My lions!" "No, Haggy-- my hamburgers!") and get beaten up by a gorilla who refuses to be knocked out and turned into hamburgers.
It makes sense that a restaurant named after a character who is willing to risk life and limb for a tasty burger would know a thing or two about hamburgers-- so I head for Wimpy's Diner on The Danforth. Wimpy's Diner ("There's No Place Finer Than Wimpy's Diner") is a 50s-and-60s-themed restaurant chain with locations all over the city, but the Danforth location is near the glasses store where I've ordered new glasses for my Wedding Day. My old glasses are busted and twisted and scratched and chipped and held together by sheer force of will. If I stopped believing in my old glasses they would turn to dust and waft away in the breeze.
Earlier at the eye doctor I got eye drops and then went stumbling around outside with dilated pupils, the world blurry and washed-out white. I bought new shoes and a cream-colored shirt-- more items checked off my wedding checklist-- and then I dropped off my prescription before heading for Wimpy's.
Walking into Wimpy's is a blast of primary colors, red and blue: Red vinyl booths and stools, red and blue neon around the lunch counter. Bill Haley's "Rock Around The Clock" is rockin' from the speakers. The walls are plastered with images, a shrine to pop culture of a bygone era: Popeye, Lucille Ball, Babe Ruth, Elvis, Betty Boop, Jayne Mansfield, James Dean, Marilyn Monroe, The Three Stooges.
I sit down and a friendly server brings me a menu. I overhear another customer: "Their burgers are so good." My napkin proclaims, "Our Specialty: Charcoal Broiled Hamburgers." I order a hamburger.
The burger arrives lickety-split: a huge ten ounce slab of meat overlapping its bun. The burger is served open and the smell of grilled meat is making me INSANE. I lean closer, taking in the crosshatched grill marks and the condiments and toppings laid out on the bun: mustard, ketchup, lettuce, tomato, onion, relish (I should've asked for no relish) and two pickle slices arranged in a cross. The bun itself is a yellow egg bun, toasted, no seeds.
I pick up the huge burger and take a bite: nothing but meat. It's beefy and salty with that odd Canadian taste that I still can't quite place. Is it the feed? Something in the water? Additives to the beef? More research is called for!
So this Wimpy's Burger is not quite right. Still, the toppings are fresh and $5.99 for a ten ounce burger is a good deal. Outside the street rumbles with construction and inside one of two T.V. sets is tuned to Cable Pulse 24: weather, traffic, stock prices scroll across the screen. If my Mom was here she would reach up and calmly turn off the Television, doing her part to reduce noise pollution.
Last bite: Gone! That was a truly mighty burger but I could eat another right now. That bacon burger at the neighboring table looks so good I want to run over and snatch it and then dart out the door. My Doctored Eyes have returned to more or less normal so I could make a speedy getaway. No, No-- stealing is wrong, we all know that. I'll just have to come back another day.
What is it about 50s diners? The familiarity, I suppose. Familiarity and Nostalgia for the Pop-Culture version of the 1950s we've all learned from "Happy Days" and "Leave It To Beaver." MAD TV did a sketch once where two couples go to a 50s diner on a double date. "You'll love it," says Couple Number One. "It's so authentic." The couples proceed into the restaurant only to be stopped by a waitress. "Sorry," she says, "we don't serve their kind." The second couple, who happens to be Black, looks properly horrified. The first couple laughs it off. "See? What did we tell you? So authentic!" Seen through a primary-colored lens of Pop Nostalgia, The Fifties was a lot of fun: Davey Crockett Hats, Sock Hops and Hula Hoops... but like any Era, The 50s had its Dark Side: Racism, Sexism, Fear and Hatred. Am I seeing the Hamburger of My Youth through a Nostalgic Lens? Of course. I am seeking a hamburger that might only exist as an Idealized Memory, made up not of ground beef but of the sights and sounds of my Dallas childhood, a childhood that gets more golden with each passing year as The Dark Side retreats, leaving only memories of Happiness. That, of course, is how the mind works. With time, the mind throws out the bad and clings to the good. As Homer Simpsons says, "Everything looks bad if you remember it." But now and then Memory and Reality happily intersect: a smell, a taste, a place... I still have hope, and so The Quest continues.