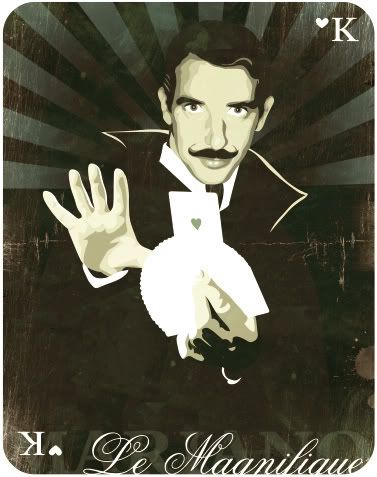 July 3rd, 2007
(Go west) Life is peaceful there
(Go west) in the open air
(Go west) where the skies are blue
(Go west) this is what we're gonna do
--Pet Shop Boys covering The Village People
"Go West, Young Man."
--Horace Greeley covering John Soule
1851: Newspaper man John Soule of The Terre Haute Express writes "Go west, young man, and grow up with the country." Fourteen years later, in 1865, publisher of The New York Tribune Horace Greeley chops off the end of John Soule's phrase and renders it thusly: "Go West, Young Man." And that's what I'm doing, heading West toward The Magic Spot and the blue skies of Etobicoke.
Etobicoke! From the Native Mississauga word "wah-do-be-kang", which means "place where the black (and/or) wild alders grow." Etobicoke! A township in 1850 and one hundred and four years later, in 1954, part of The Municipality of Metropolitan Toronto. Etobicoke! In 1998, the place where the black and or wild alders grow merges with five other local municipalities to form the amalgamated city of Toronto. And now, in 2007, I have a vast gleaming metropolis in which to romp and eat hamburgers. Gosh, it sure was nice of The Natives to clear out and leave us all this land!
The Westward trek begins. I walk over to Broadview, past the school where the exterior shots of Degrassi Junior High were filmed, past the school's playing field now empty of children (SUMMER VACATION!!!!) and reclaimed by seagulls, waddling about all puffed-up and self-important. I know, I know-- there's no bird taxonomically classified as "seagull" but I am a layperson when it comes to birds so therefore I am allowed to fall back on common usage of grouping various types of gulls under the broad umbrella of "seagull" rather than speculate as to what type of gulls I saw, which in all likelihood were ring-billed gulls (Larus delawarensis), the most common type of gull in all of Southern Ontario. I once saw a flock of seagulls (an actual flock, not the 1980s band Flock of Seagulls) chowing down on a heap of KFC debris but I've never seen a seagull eat a hamburger. I'm sure they would, though, if given half a chance. Filthy Scavengers!
If all goes well two Burger Questers will be joining me today: friend and
bandmate
Ronnie C. and his lovely wife and fellow bandmate Kristiina. No, that's not a typo and no, you're not seeing double (but if you are... lay off the hooch!)-- Kristiina is from Finland and she does indeed have three 'i's in her name. We're meeting at 1:00 P.M. at The Magic Spot: will it work out? Will the spot indeed be magical? Will a magician with a twirly handlebar mustache reach into an upturned tophat and produce The Hamburger of My Childhood with a flourish and a 'TA-DAAAA?' Fingers crossed!
I take the streetcar up to Broadview station where I transfer onto the Bloor-Danforth Subway line heading... you guessed it... West. Man, Toronto Public Transit has come a long way since 1861. Back then the privately owned Toronto Street Railway Company was granted a 30 year franchise to provide the public with horse-drawn streetcars during the summer and horse-drawn sleighs in the wintertime. In 1894 the last of the horse-drawn streetcars was retired. One era ended and another one took its place: the Age of Electricity had begun. Watch the calendar: Sixty years flip by. It's now 1954 and the first Toronto subway opens between Union Station and Eglinton Station. Twelve years after that, in 1966, the Bloor-Danforth line opens between Keele and Woodbine. It is this line (now expanded) that will carry me Westward toward a hopefully Magically Delicious Hamburger enjoyed in the company of friends.
The subway car smells like curry and my stomach starts to rumble. Next to me is a woman cutting her fingernails and leaving a pile of nail clippings all over the seat but neither she nor the fashion victim standing in front of me wearing a bucket hat, a down-filled vest, furry boots with pom-poms and tight (way too tight) short-shorts can extinguish this hunger. Come to me, O Burger of My Dreams!
A quick walk from Royal York Subway and lo, I have arrived! Before me is The Magic Spot, a big square building with a sign proclaiming "Under New Management: Putting The Magic Back In The Spot!" Could there be anything sadder than a Magic Spot that's lost its magic? Yes, New Management: bring the magic back!
Inside The Magic Spot is a cafeteria-style lunch counter where you place your order. I tell the grill man I'm waiting for friends and then I grab a table up front and kick back. Now it's a question of which will arrive first: my friends or unstoppable stomach rattling hunger?
Behind me the grill man (baseball cap and tattoos) bellows out orders for pickup: "Pork Dinner! Fish and Chips! " The grill sizzles: the smell of pork souvlaki fills the air.
My friends are here! Hugs, handshakes and smiles all around. I walk up to the counter and place my order: 1 Homeburger, 1 Root Beer, 1 Onion Rings. I know, health fans, I know... but Ronnie C. tells me The Magic Spot has truly excellent onion rings and as it turns out, he's absolutely right. I may be killing myself slowly but what a delicious way to die.
While we wait for our food Ron and Kristiina tell me about The Hamburgers of Helsinki, mostly served in late-night Burger Kiosks catering to hungry drunks. The Hamburgers of Helsinki are too saucy, I'm told-- too condiment-heavy and not about the meat. Too much sauce, stacked high with condiments to the point where the burgers must be eaten with a knife and fork.
Our orders are called. We swarm the lunchcounter and select our toppings. Mustard, Onion, Lettuce, Tomato, Pickle and a few Hot Peppers. Final Burger Assemblage complete, the counterman forks 'em over: A Big Grilled Burger on a toasted sesame seed bun nestled next to a pile of golden brown and perfectly crispy onion rings all served up on a white oval diner-style plate. Looks good!
I pick up the burger-- good heft, good handfeel. The toasted bun is toasted and not soggy. I hold the burger aloft and take a whiff. I'm expecting charred beefy goodness but this burger-- which looks exactly like a burger should, right down to the grill marks-- doesn't smell burgery at all. Maybe there is no burger in my hand. It's all an illusion, made of smoke and mirrors. Damn you, Magic Spot!
The First Bite: an odd, spicy sawdusty taste. It's somewhat familiar but it doesn't taste like any burger I've ever had. Mental Fingersnap: Gyros Meat! Not quite but damn close. Grill haunted by The Ghosts of Souvlakis Past. Behold The Magic of The Gyros-Flavored Hamburger!
I turn from the burger and bite into an onion ring. It's as good as it looks: hot, crispy and delicious. Ron points to his hamburger. "Would you like to try a bite of the regular burger?" I would. It's indistinguishable from the homeburger. Outside is a beautiful summer day and we eat and talk and laugh and then the burgers are gone and we are heading back to the subway full of magic onion rings and so-so burgers. No man with a black hat and twirly mustache, no magical burger of my dreams, but we are full and fortified and ready to turn a so-so burger into an afternoon of friendship and fun... just like magic.