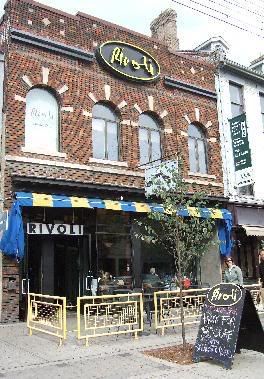 June 21st, 2007
A friend phones me up this morning and says, "Great day for a burger." And whaddya know? She's right!
When Burger Questing with friends, logistics come into play. Schedules must be checked and double checked, phone calls fly back and forth, little red pushpins get pushed into maps. Synchronize your watches: It's Burger Time! And I'm not talking about the 1982
video game
that I played as a kid in Dallas either. Man, that was one strange and oddly popular game. Hey kids! Tired of racing cars and fighting Ninjas? Now you, too, can experience all the fun of working in a Fast Food assembly line! Of course, when you work in a real Burger Joint you don't make the burgers by walking on top of them (I hope) and you're not dodging evil food-based enemies like Mr. Hot Dog, Mr. Pickle or Mr. Egg, unless you're still coming down from the night before. "Peter, what are you doing hiding in the meat freezer? Get back to work!"
Peter, eyes as big as dinner plates: "Can't do it, boss! Mr. Pickle is trying to kill me!"
"Um... You're fired."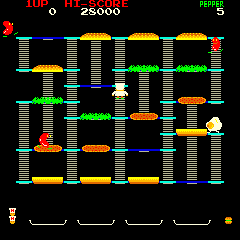 I grab the phone. Let the Burger Call go out across the land! The Rivoli, One O'Clock! Two more Burger Questers agree to meet me and then I am gone, rattling over the bridge, heading back to Queen Street West.
The Rivoli is a Queen West landmark, a restaurant and club dispensing Black-clad Hipster Attitude since 1982. According to The Rivoli's website, Mike Myers's Saturday Night Live German club character Dieter was inspired by a Rivoli waiter. The Rivoli is located on the same spot as the original 1920s Rivoli Vaudeville Theatre. I wish could go back in time and quest for burgers, Vaudeville Style!
"I feel like a hamburger."
"Funny, you don't look like a hamburger."
"No, I mean: please make me a hamburger."
"Luckily for you I'm not only a waiter, I'm also a wizard. POOF! You're a hamburger."
Okay, maybe not. I walk up to The Rivoli and there's my Hunny waiting for me on the patio, smiling in the sunshine. A beautiful day, a beautiful woman... now all I need is a beautiful burger.
It's too sunny outside so we move indoors, where we are promptly joined by my buddy Beau. Our Burger Quest Quartet is now 3/4ths complete, but where's the friend who called me this morning? She is Missing In Action. Perhaps she had a run-in with Mr. Pickle. That dastardly fiend!
Ah well: three out of four ain't bad. We order: burger-- burger-- chicken satay. Chicken Satay?!? Hey, this isn't Burger Tyranny. We here at Burger Quest strongly support Freedom of Choice. Although if everyone had ordered burgers I could've worked in a Blues Brothers reference: "Orange whip? Orange whip? Three orange whips." In this case, it's two orange whips and a crantini.
Turns out my Hunny would be allergic to the chicken satay, so she changes her order to a brie and berry salad. Then we kick back, talk about the upcoming wedding (Beau: "If you're nervous, just have a shot or two with your bridesmaids. You'll be fine.") and wait for our drinks.
The glaciers melt and a new Ice Age begins. Those glaciers also melt and then our drinks finally arrive. "Sorry, we were changing the keg." According to my dining companions, the beer is lukewarm. I stick with my Iced Tea, which is super sweet (not Texas-style) but cold and wet.
The food arrives and my stomach rumbles. The burger is served open on a toasted bun with no seeds, no seeds of any kind. Atop the meat is a mass of caramelized onions. On the other half of the bun are lettuce, tomato and a thin wrinkly pickle that looks like it spent too much time in the sun. You've heard of sun-dried tomatoes? Try New Sun-Wrinkled Pickles!
I mustard-and-ketchupify my burger from the plastic bottle of French's and the glass bottle of Heinz on the table. Then I assemble the burger and hoist it up. I frown. The bottom of the bun-- the toasted bun-- is soggy. Is there some kind of Swamp Monster slogging through the Rivoli kitchen surreptitiously handling buns?
"Hey Beau-- is your burger soggy?"
"Yeah."
How ironic. Burger Quest's first toasted bun is also Burger Quest's first soggy bun. Somewhere, ghosts of Canadian Vaudevillians are chortling.
The First Bite: It's pretty good. A little overdone. As I chew I'm hit with a familiar taste. Soya Sauce? No,
Hoisin Sauce
. DID YOU KNOW? 'Hoisin' is a romanization of the Chinese word "海鮮", which literally means "seafood". Yet Hoisin sauce contains no seafood! Ah, sweet mysteries of life.
I scoop on some Chipotle Mayonnaise that my Hunny requested when she ordered her fries and the Burger goes up a notch or two in the flavor department. I slather the last bite in the Chipotle mayo and turn to my buddy.
"So what did you think?"
"Middle of the pack. I've had better, I've had worse."*
I'd put this Riovli Burger at slightly-- just slightly-- above average. Sorry, Rivoli: 'slightly above average' just isn't good enough.
* FOR THE RECORD: The best burger Beau ever had was grilled for him outside by his father, Harley. Beau's worst burger was a plastic-wrapped and then microwaved cheeseburger from a vending machine. And the fourth member of our Burger Quest Quartet, who never showed but stopped by my house afterward, had to rectify a problem at work, which she very ably did.