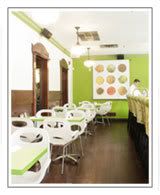 Friday June 8, 2007
Back on the Queen Streetcar, heading West through the washed-out summertime city, hot sun above and a cool breeze floating through the open streetcar window. Let's be clear here: it's hot but it's not Texas Summertime face-melting blast furnace hot and Thank God for that.
I'm heading for Hal Burger, past the two homeless guys stretched out sleeping in the sunshine amid a scatter of newspapers on the lawn of the church on the corner of Queen and Power, past the incongruous pile of snow outside the Moss Park Rec Center Hockey Rink, into the lunchtime crowds thronging the sidewalks near Yonge Street. Outside City Hall, in front of one of the chip trucks (or "Concession Trucks," as they're known in the biz) a line snakes back about thirty people deep and I make a mental note: chip truck burgers? Could be good. Not long after I began this quest a friend emailed me about a High Park chip truck that apparently has the best fries ("chips") in the city. Perhaps the burger of my dreams is sizzling on a mobile grill and I will have to track it down stunt-man style, leaping from a moving car onto the chip truck roof.
I jump off the streetcar and head south, Burger Compass steering me straight for Hal Burgers. On the corner of John and Adelaide, right across from Hooter's, is a huge pile of horseshit. Thank you, Mounted Police! At least they could do is have a chain gang stretched out behind them to scoop up the horse droppings. What will the tourists think? "Welcome to Toronto! Never mind the horseshit!"
I continue on, getting my bearings from the Martha-Stewart-Paint-Sample-Style Hal Burgers sign. Inside: lime green paint and sleek dark wood. This is one o' them highfalutin' burger joints, packed with business folks in causal clothes and healthy-looking hipsters. I take a seat at the bar and peruse the menu. In addition to regular burgers and a variety of global-style burgers (Tandoori, Bangkok) Hal Burgers offers the following burger add-ons for prices ranging from a buck to three dollars:
Goat Cheese
Pancetta
Provolone
Swiss
Stilton
Cheddar
Brie
Portobello Mushrooms
Roasted Jalapeno
Caramelized Onion
Pico de Gallo
Chili Mayo
Mango Chutney
Gorgonzola
Ginger Melon Relish
Chorizo
Shittake Mushrooms
I opt for an 8 ounce regular burger, medium, with coleslaw and an iced tea. The iced tea, I'm delighted to discover, is real tea: i.e., brewed unsweetened tea that's been cooled and iced, vs. the cans of tea-flavored corn syrup you so often get stuck with when you order an iced tea. Real Texas-style iced tea! That's a good sign. There's no burger rhetoric on the menu or the walls, either: another good sign. Let the burgers themselves do the talking.
The bartender brings me my burger and it is beautiful: served with an open bun, meat on one side and the other piled high with lettuce, tomato and red onion. The only thing missing is dill pickle.
I assemble my burger and take The First Bite. Rich Grilled Meat Goodness! Yes. Yes. YES! This... this is a Burger. Each bite is sending me back, back to block parties and summertime cookouts. Each bite is better than the last. The Meat (oh man, The Meat!) is grilled to perfection. The bun, flecked with a few sesame seeds, is light and fluffy and golden brown, the color of a croissant. On the side the coleslaw is carroty orange and extra-tangy. Served in three little bowls are homemade ketchup with a faint cinnamony taste, mustard seed mustard and spicy mayo burger sauce. I scoop on more of the spicy mayo and plunge back in.
I don't want this burger to end, but it has come to this: The Last Bite. It's as good as the first, bursting with grilled meat goodness. Even as I chew I'm already fantasizing about corralling everyone I've ever known and bringing them here to turn them onto one of the best burgers I've ever eaten. "Hello, friend! You say you want a burger? Come with me..."
Could it be? Have I found it, that perfect burger of my youth? This is the closest one yet. At 14.99 (before tip) for a burger and iced tea it ain't cheap, but I would gladly pay double-- nay, triple-- the price for a burger this tasty.
Back on the streets I'm happy, ecstatically happy, filled with an incredible sense of well-being. Burger Chakras in alignment: all is right in the world. Move over, Burger Shoppe: Burger Quest has a new top burger.
p.s.: I bet you five bucks this is the most favorable review to ever contain the phrase 'huge pile of horseshit.' Any takers?
UPDATE: Hal Burgers is now closed. I guess flying in beef from Alberta wasn't all that cost efficient. The Quest Goes On...