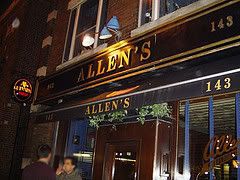 June 18, 2007
Perfect Summer Day (is it actually Summer? Close Enough), sunny with a nice cool breeze. Sexy summertime gal in a tiny brown microdress walks by enraptured with her cell phone-- young couples walk dogs and babies-- houses for sale, houses sold-- I walk up DeGrassi to Gerrard.
I'm heading North for The Danforth so now I have a choice to make: Turn left and walk through Chinatown "B" (FUN FACTS: Toronto has Two Chinatowns, one on either side of The Don River. "Forget it-- it's
Chinatowns
." Doesn't really have the same ring, does it?) or I could instead opt for a longer yet more pastoral walk-- "The long way around," as it were.
Choice Made: See You Later, Chinatown "B"! I love your Dim Sum (slurping down slippery noodles with soy sauce) and your bean paste desserts but I want to walk among the trees and lawns of houses I cannot yet afford and ponder the weighty demands of The Future. I could afford to buy a house in the city through careful savings and wise investments over a period of time... or I could haul ass to Casino Rama and bet it all on Black! No, wait-- I mean
Red
!
I walk past the French Restaurant Batifole ("The Best French Food In Chinatown", claims the chalkboard outside Batifole. Wait'll this trend catches on: 'The Best Tex-Mex Food in Little Italy.' "Well, I came for the pasta prima vera, but I stayed for the enchiladas.") and I turn North on Howland and then over to Logan. On Logan I amble past the Bain Co-op and their Utopian Housing For Urban Hippies and continue on past Withrow Park: dogs, joggers and more dogs. In another part of the park Moms and a few Dads gather with little kids, soccer balls and strollers.
On The Danforth I realize I've overshot Allen's by a few blocks so I head West, catching a whiff of rubber from the tires on the bikes outside the bike store. I accidentally misread 'Ratas Optical' as 'Rasta Optical' ("I and I will check your eyes, mon") and then I am at Allen's.
Inside is very upscale "pubby": dark and cool, air conditioner a welcome change from the sun beating down bongo-style on my poor bald head. Almost everyone else in the place is sitting out on Allen's back patio, but me, I take a seat at the bar. Ah, memories of my drinkin' days, that happy drunken feeling of tottering back from the bathroom, back to the warmth of laughter and friends. On their chalkboard Allen's offers 14 beers on tap (plus one cider), and another 65 different beers in bottles, including Anchor Liberty Ale, a 650 mil. bottle for ten dollars and fifteen cents. Yeah... 650 mil of cold dark ale... oh man... 'Anchor Liberty Ale' reminds of me of drinking Anchor Steam Beer illegally in Dallas, coming back from loading trucks at the Frito Lay Warehouse, sittin' by the electric fan and sucking back ice-cold lemonade and ice-cold beer...
Snap out of it, man! Stay On Target! Grab a menu, take a look. Where are The Hamburgers? Gasp! Have my Burger Informants turned on me? Have my Burger Senses failed?
In a word: no. There in italicized script are the words "We also serve what are considered to be Toronto's Finest Hamburgers." No price, no other information. What is this, a silent auction at Christie's? All I want is a freakin' Hamburger.
The tie-wearing bartender comes over and I place my order: One Sprite. One hamburger, Medium. All the trimmings, which turn out to be lettuce, onion, and pickles, with Dijon mustard and relish in little white bowls. Do I want fries with that? Yes I do but I will not order them. No beer, no fries. Looka Me, Ma! I'm exhibiting self-control!
I sit at the bar facing a wall of liquor ("Liquor Wall? I Don't Even Know Her") and I wait for my burger.
And I wait.
And I wait.
I'm getting impatient. Time has stalled: inside the pub it's always Beer O'Clock. This portion of The Burger Quest is brought to you by Samuel Beckett. "Let's Go." "We Can't." "Why Not?" "We're waiting for a Hamburger."
At the end of the bar the phone keeps ringing and people keep coming through the door-- families and business guys and a whole lot of little old ladies ready to Brunch It Up. A few barstools away from me is a man sitting in front of a perfect pint of Guinness. I can smell that Goddamn delicious beer from here and if I was Plastic Man or Mr. Fantastic or even the short-lived Elongated Man (first appearance: The Flash #112, 1960) I could stretch out my hand and grab that Guinness and hoist it to my waiting lips. Why use my hand at all? I could just form my stretchy lips into a super-long straw. Yeah, that's the ticket!
My burger finally arrives and instantly my thoughts turn from Super-Mooching and click into Burger Mode. This here hamburger is tiny, brothers and sisters, tiny and lonely in the middle of the plate with no side orders to keep it company. It's served with the bun open which unfortunately only advertises the sparsity of the meat. Toppings: a slice of onion, lettuce, tomato and a thin slice of Strubbs pickle. No Strubbs pickles in Texas, folks. I wonder if there's a Bizarro World Burger Quester down in Dallas, a Canadian ex-pat searching desperately for the Toronto-style hamburger of his or her youth... "I sure am getting tired of all these big 100% beef burgers flame cooked to perfection. And where in the heck are the Strubbs pickles?"
THE FIRST BITE: short on taste. Has the Sprite stripped my taste buds? Nope-- my sense of taste kicks in just in time to deliver this burger's bizarre sour aftertaste. A sour hamburger? Brothers and Sisters, that just ain't right.
Chomp, chomp, chomp and it's gone. The Last Bite was nothing but bread and fixin's. As Clara Peller would say, "Where's The Beef?"
QUICK BURGER TRIVIA: Can you name Clara "Where's The Beef" Peller's only movie role? "Hamburger Hill?" (1987) No, although that would've been awesome. "Good Burger?" (1997) Nope. What about "Hamburger: The Motion Picture?" (1986) This classic Bad 80s Movie stars famed Chicago Sports announcer Dick Butkus as a drill sergeant-like instructor at Burger University, where a young slacker has gone to get a university diploma in order to receive his sizable inheritance. Archetypes? We got 'em! They're all here: the fat guy, the geek, the sexy broad, the wacky nun-- nothing says comedy like a wacky nun, unless it's a wacky nun being taught how to make hamburgers by Dick Butkus. But alas, no Clara Peller. Ms. Peller's only movie role was in "Moving Violations" (1985) about a group of wacky archetypes attending a driving school. Of course! "Moving Violations" also features a young Don Cheadle in his star turn as a worker at "Juicy Burger," which is a cinematic echo of young Nicholas Cage's (back when he was still billed as "Nicholas Coppola") blink-and-you-miss-it role as a burger worker in "Fast Times at Ridgemount High" (1982). Judge Reinhold was his boss-- how humiliating!
Ms. Peller is unfortunately no longer with us, having shuffled off this mortal coil on August 11, 1987 at the age of 85, a mere three years after first inquiring as to the whereabouts of the beef. To commemorate the 20th Anniversary of her passing, on August 11 of this year (2007) I will venture forth and find the beef. It's not at Allen's, that's for sure.